Ronaldo Pledges Future To Real Madrid
Real Madrid superstar Cristiano Ronaldo has indicated his desire to see out his contract in the Spanish capital, as he looks set to stay until 2018. The Portuguese international joined Los Blancos form Manchester United in 2008, yet has in recent months been linked with a return to the Premier League, as well as big-spenders Paris Saint-Germain. Yet the 31-year-old insists he wishes to remain "in the best league in the world" until his contract is up in two years' time. "I have been in Spain six years," he told Marca. "I was also at Manchester United for six years and that was a great experience, a great championship, but for me this is the best league in the world. It's a privilege to be here. "I want to be here for a couple more years and then we'll see. That's the duration of my contract and I want to give my all in that time." Ronaldo, who was handed the Pichichi prize for scoring the most goals in La Liga last season, then thanked all at the club as he targets more silverware this year. "I dedicate this award to the team, to the coaches, the staff and everyone at Madrid," he said. "Without them, I wouldn't have been able to score so many goals last season. "Let's hope the fans keep supporting as they have been. They are spectacular. We will give everything on the pitch to try to win trophies and the Champions League once again."
Everton appear to be edging nearer to a takeover after talks with American investors John Jay Moores and Charles Noell progressed. Moores, the former owner of Major League Baseball franchise the San Diego Padres, and his associate have been in negotiations since December. The pair have undergone a six-week due diligence period looking at the club's books and speaking to major shareholders chairman Bill Kenwright, Robert Earl and Jon Woods. According to reports, the Americans are looking to secure a deal for £200m in the next few weeks. There has been interest from other parties, but none are as far down the line. Everton have not commented on any of the recent takeover speculation, but at the club's AGM in November chief executive Robert Elstone said: "There has never been more people interested in investing in Everton and the chairman is confident [investment] will be secured in the near future." At the same meeting, Elstone said the club's plans to move to a new £300m home in nearby Walton Hall Park were more dependent on securing partnership funding from the city council than they were on fresh outside income. "We are not working on the new stadium on the premise that we are about to secure new investment or need new investment," he said.
Barcelona superstar Lionel Messi has undergone test for a recurring kidney problem, yet his club insists he will be back in action midweek. The five-time Ballon d'Or winner missed Barca's Fifa Cub World Cup semi-final played in japan in December after suffering from renal colic – an abdominal discomfort usually caused by kidney stones. Reports in Spain revealed the Argentine may need surgery, yet his club had admonished such claims, insisting he will be back in action after undergoing tests this week. "Leo Messi will be submitted for different tests on Monday and Tuesday to assess the development of the kidney problems suffered in December," a Barcelona statement read. "On Wednesday the player will return to training with the first team." Messi, who has scored 24 goals in 28 matches across all competitions this campaign, is set to be available for his club's Copa del Rey second-leg semi-final clash against Valencia on Wednesday evening. The Catalans hold a 7-0 first leg advantage, with Messi netting a hat-trick in the first fixture played at Camp Nou.
AC Milan coach Sinisa Mihajlovic feels striker Mario Balotelli is not up to scratch, yet is confident he can come good soon. The Italian forward is on loan at the San Siro side from Liverpool, yet missed three months of action through injury, making his comeback last month against Fiorentina. He has since come on as a substitute in Milan's last five matches, yet has failed to impress, even after being given a full 45 minutes in the Rossoneri's 1-1 draw with Udinese last Sunday. "I expect more from Balotelli and that will come when his fitness gets better," coach Mihajlovic told reporters. "His fitness has already improved and he did what he had to do. "But you can see that he is not the real Balotelli yet. There is still something missing physically." 'Super Mario' did manage to net a goal – a penalty – in his side's 1-0 first leg Coppa Italia victory over Alessandria two weeks ago, taking his tally to two goals in ten matches so far this campaign. The Italian's last League goal came against Udinese in the reverse fixture in September last year.
Kurt Zouma has been ruled out for six months after scans revealed he suffered
cruciate damage last Sunday.
The Chelsea defender was stretchered off after his right knee buckled on landing during the second half of a 1-1 draw with Manchester United. And surgery has already been scheduled after the extent of the injury was discovered. A club statement read: "Chelsea Football Club's medical team have diagnosed that Kurt Zouma sustained an injury to his anterior cruciate ligament during yesterday's Premier League game against Manchester United. "Kurt will undergo surgery in the next 48 hours and is expected to be out for approximately six months." Zouma, who has started every game since Guus Hiddink returned to Stamford Bridge, tweeted: "I will come back stronger. Thank you everyone for all the messages." It remains to be seen whether the Frenchman's long-term absence will alter the club's position on captain John Terry, who has been told there is currently no new contract offer on the table. In the meantime Gary Cahill is likely to return to the starting XI alongside Terry for this weekend's Saturday Night Football game against Newcastle.
Paris Saint-Germain winger has moved closer to his proposed switch to China, joining the influx of well-known stars to Asia. The 30-year-old Argentine – nicknamed 'Pocho' - did not travel with his French club for their weekend's game against Marseille, with head coach Laurent Blanc confirming that he stayed in Paris to negotiate is expected departure to Chinese club Shanghai Shenhua. "Honestly, the club could tell you a lot more than me," Blanc said. "He prepared to come here to Marseille and then at the last minute he stayed in Paris to negotiate his departure. "We already anticipated it a bit because we opened the door for Pocho in the [European] winter transfer window, something that he didn't take advantage of." It was initially thought that the former Napoli winger would see how his contract in France with Chelsea and Inter Milan rumoured to be interested, yet French publication Le Parisien report that Lavezzi's exit now could fill PSG's coffers by up to €10 million. Should he move, Lavezzi will join a host of high-profile players to head east in recent weeks, including Chelsea midfielder Ramires, Ivory Coast international Gervinho and Atletico Madrid striker Jackson Martinez. Since joining PSG in 2012, Lavezzi has won 161 caps for his club, scoring 35 goals and providing 24 assists.
It's only a matter of time before a Chinese club breaks the transfer record and spends $100million on a player. That's the view of former Australia interntional Tim Cahill, who plays for Shanghai Shenhua and who has witnessed first-hand a spate of big-name players arrive in the Far East. The Chinese Super League record has been broken four times in the last month by players like Ramires, Jackson Martinez and Alex Teixeira, with more expected. Cahill, a former Everton star, says the Chinese revolution has been a long-time coming. "When I first went to China I knew the vision; I knew what was behind it and I knew what they wanted to do," he told Fox Sports. "To see where its come to now and where we're at, it's pretty crazy. "They've got the power and when they want something they get it, and when they don't want something they get rid of it. It's pretty much like a revolving door – you see a lot of players coming in and a lot of players going. "It's crazy to see but this is only going to get worse. This is going to be massive … soon they'll break the $100million mark easily."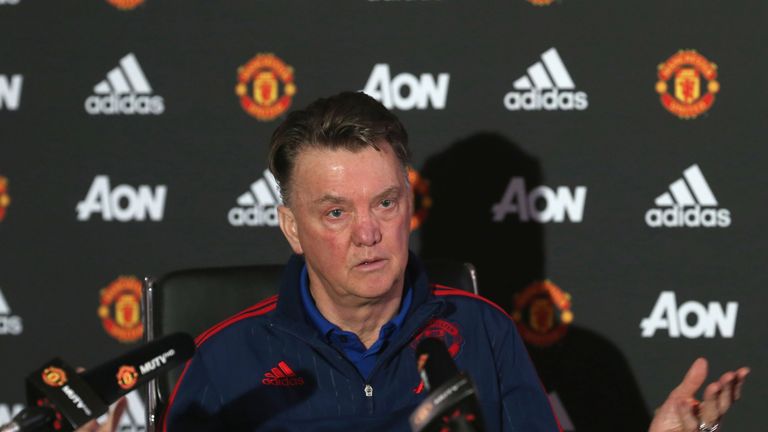 Manchester United coach Louis van Gaal has once again lashed out at journalists
questioning his future, before bringing up Sir Alex Ferguson's difficult start in charge at Old Trafford.
The Red Devils played out a 1-1 draw with Chelsea last Sunday to leave them fifth in the Premier League standings, 12 points adrift of leaders Leicester City. Rumours again circulated that Jose Mourinho is being lined up as a replacement for the under-fire Van Gaal, who did not take kindly to journalists bringing up the matter. "You've spoken with Ed Woodward?" he said at the post-match press conference. "Why they have to deny [the Mourinho rumours]? I don't interfere neither (sic). So why the club has to deny that, when you are creating stories? "Okay. So you didn't speak to Ed Woodward, not with the Glazers and you are inventing a story. And then I have to answer this question. I don't answer this question. And I shall repeat myself every week. "Now I have to say that you are getting the sack tomorrow. What is your name? Then I can announce your name also. Look at your wife, maybe you have children or a nephew or something." Diego Costa netted a late equaliser to deny United the three points, bringing up the notion of "Fergie time" the Red Devils themselves often enjoyed. Van Gaal used the chance to bring up the decorated tactician's difficult start in his early days at Old Trafford, as he slyly hit back at his critics. "Okay, write what you want to write," he said. "Maybe you remember also the first years of Fergie."
Fernando Torres came off the bench to score his 100th goal for Atletico Madrid as they beat Eibar 3-1 last weekend. Keko put Eibar ahead at the start of the second half, but central defenders Jose Gimenez and Saul each headed in corners at to turn the match around, and a minute into time added on Torres pounced to strike from close range, clinching victory as Atleti ended a winless run of four matches. Torres is an Atleti legend, having made his name at the club between 2001 and 2007 before signing for Liverpool, where he was a great success. His career dipped dramatically after he joined Chelsea in 2011 and a move to Milan last season failed to bring improvement. The 31-year-old Spanish international striker rejoined his old club on loan from Milan at the start of this season.
Leicester City striker Jamie Vardy has committed his future to the Premier League leaders after signing a new three-year contract. The 29-year-old England striker joined Leicester from lowly Fleetwood Town for £1-million in 2012 and is now a household name. Vardy has scored 18 goals for Claudio Ranieri's side, who are five point clear at the top of the Premier League table after beating Manchester City 3-1 last Saturday. "I'm absolutely delighted to be fighting to achieve something special with this club. I've never known a spirit like it," Vardy said. "I want to be part of it for a long time. Leicester have shown nothing but total faith in me since the day I arrived and it's impossible to measure how much that belief has helped me to improve. "I'll forever be grateful for the investment the club has made in me and I'll spend every day working to repay it." In November, Vardy became the first player to score in 11 successive Premier League matches, breaking Ruud van Nistelrooy's previous record by scoring gainst the Dutchman's former club Manchester United in a 1-1 draw. Ranieri added: "Jamie is a fighter. He has had an unbelievable journey to get to this point in his career and continues to play every game as if it's his last. "I love his spirit, which is a quality I want in my players above all else. I am very happy that he will stay with us for a long time."
Jose Mourinho says he will soon return to topflight management amid talk linking the
former Chelsea boss with Manchester United.
Mourinho has been out of work since being sacked by the Blues in December for the second time in his career following a disastrous start to their Premier League defence. The ex-Porto, Inter Milan and Real Madrid coach is reportedly in talks with United, who are currently overseen by Dutch tactician Louis van Gaal. The Dutchman is under pressure in the Red Devils hotseat but has insisted he will not step down. "I stopped when I left Chelsea in 2007, for a few months, and now is the second time I stop in 15 or 16 years, so it is not a drama. But for sure, I will be back soon," Mourinho said in an interview published in the Mail. "At this moment I don't know where football will take me, because in football you never know. But as a family, our home will be in London. "I experimented with English, Italian and Spanish football, three of the top football sides in the world (Chelsea, Inter Milan, Real Madrid). I always say I need competition - I need competition every week. "No, I am not enjoying it (not working). I can have my family, I can have my friends, I can have my quiet life, which I also like, and I can have my football. I can have everything together and I don't need to give up on one of them. "To be fully happy I need everything, so I go back to football. I think it's my natural habitat. I have worked since I can remember, and as a manager since 2000."
Eden Hazard apologised to Jose Mourinho for getting the manager sacked at Chelsea. The Portuguese coach was sacked after a horror first half of the season, which saw the Blues struggling down in 16th place before the axe fell. Hazard, the Player of the Season in 2014/15, has been a shadow of himself this time out, and only managed his first goal of the campaign in a January FA Cup rout of MK Dons. The Belgium admits he felt guilty after Mourinho got sacked. "I sent him the message to say I was sorry he had gone and, well, just that I was sorry," he told the Guardian. "We'd enjoyed all that success together last season, but this time round we hadn't. "I felt a little bit guilty because I'd been Player of the Year. I'd been one of the most decisive players, and this year I'd performed less well. "I hadn't been at the same level, so I sent that text to Jose and he came back to me, wishing me all the best for the future." Mourinho may be gone, but Chelsea have not fared much better, and Hazard just can't figure out what's going wrong. "For a team of champions to go through what we have this year even I can't explain," he adds. "Things have been better recently, but we're still not winning games quite as we used to. No-one can put his finger on what's happened at Chelsea."
Liverpool target Alex Teixeira has signed for Chinese club Jiangsu Suning in a deal worth £38million. The Reds tried to recruit the Brazilian attacker in the winter transfer window, but failed to agree on terms with Shakhtar Donetsk. Shakhtar have since confirmed Teixeira has moved to Jiangsu, who recently captured his compatriot Ramires from Chelsea. "Shakhtar thank Alex for the time spent in the team and wish him success at his new club," Shakhtar said in a statement. The Chinese Super League begins in March.